I joined Apex Pon Vidyashram in class 6. I was new to India and language was a barrier to me but my teachers encouraged me & helped me acculturate into my new environment. Their unique way of merging holistic thinking and erudition of subjects helped me develop my core character and principles along with a incredible level of practical as well as theoretical knowledge. Our mentors are highly experienced in their fields. What sets apart Apex PonVidyashram from other schools is how they readily present a student with opportunities to build themselves the best of futures making them one of the top schools in Chennai. I shall always cherish the memories I made at School.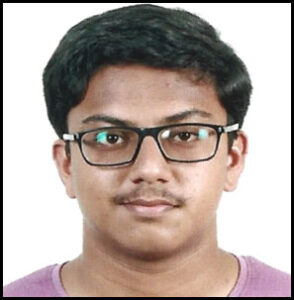 N. Shuaib Ahmed XII- A ( Batch 21-22 )
School days are always the best phase of our lives. But we realize it too late that when we turn back, there are only memories left. This is what people usually say. But I can say with a big smile on my face that I experienced my schooling with pure joy. The bond with the teachers was so strong that it didn't feel like going to a school, it really felt like a second home. I also got the chance to socialize with students from various backgrounds, and developed everlasting friendships. Though we had limited resources, there was limitless joy. The teachers were very understanding and gave us ample space, mixing a correct proportion of education and entertainment. The campus is small but sweet. There were certain shortcomings, but looking at the overall picture, it is a nice place. The strong foundation of my basic concepts and understanding of science is a by product of high class teaching by my beloved teachers. Thank you!
Rahul J
My school life experience – I joined APVS in my 4th grade and went on to finish my tenth grade here with a ton of memories and a river-load of tears on farewell. In these constructive 7 years, my schooling life cannot be summed up to the 8 periods of a day and the extra classes that happened during the 10th board exams. I could possibly say that I've seen my school get built brick by brick, literally, as I've seen us go taking baby steps one day at a time with sheer determination, perseverance and hard work from management, staff and students in unison, to achieve this colossal building with amazing labs, a stage for conducting various performances and an enjoyable ground. As much as we enjoyed co-curricular activities, the studies aspect too had always been surprisingly enjoyable owing to the workaholic yet friendly nature of all our teachers as they put in as much effort as they could and more, in making sure that we excelled in our exams comfortably at the end of the year. Once the results came out, we were on cloud nine, on one hand because we were done with the toughest part of the year and on the other that the efforts we and our teachers put in bore fruit when it mattered. As students, we were often referred to as "Pon kids" and we always took it for granted back then. Looking back now, it is that very banner of being a "Pon kid" that has taken me to all these wonderful places, giving me memories and friends to cherish for a lifetime. Saying thank you wouldn't do justice to my school as I am grateful to everyone in here, both the teaching and non teaching staff for being sculptors in chiselling the great sculptures – we the students.
Thayalan R
My 7 years of schooling life, I learned many things from my teachers and from my friends. I could say that teachers helped us to reach our goals and achievements with tenacity and made us to trust ourselves. We thoroughly enjoyed our lab classes and pt periods. Teachers put their extra effort to make sure that we excel in our exams and getting a good result. In my 9th class I was chosen for Road safety patrol (RSP) performed parade in Republic day celebration in the presence of honourable GOVERNOR of Tamil Nadu. This was really best thing that happened to me in my school I have got to learn how to be disciplined and why it is necessary to follow traffic rules and many more. Teachers also made us know the importance of sports in our life. We were taught to learn from our mistakes and this made us more thoughtful and mature. I am really grateful to all the teaching and non-teaching staff for making me more confident in life and all this has taken me back to the wonderful memories which I spent with my friends, which I will cherish for lifetime. I thank my teachers for the words of encouragement and guidance to make me a better person.
Abhinav V
I was 8 years old when I joined Pon Vidyashram. At that time it was a daunting experience for me to enter a completely new environment, complete with new teachers and unfamiliar classmates. I still remember the trauma of joining in a completely new school. But over time, I thrived, made friends many of whom are good friends of mine even now. In my 8 years of being a student in Pon Vidyashram, I've always felt like I was part of a family. My teachers have been kind enough to take me under their wings and see the best in me. Even when I couldn't believe in myself, they gave me ample opportunities to prove myself. They treated me like their own, and saw potential in me, even in my darkest moments. They inspired me to become better, to become more. They never gave up on me and they prepared me for the future that I am ready to face today. I've come a long way from that timid kid I was when I joined, to become one of the subject toppers for English, all thanks to the love and care that I was lucky enough to receive from my dear teachers, my Principal ma'am and the school. I am forever grateful for the amazing school that I grew up in. I will forever cherish my memories at Apex Pon Vidyashram.
Jheyanth C.S
I am Abhishek of Grade XI. At present I am Studying in another School. But the other day someone asked me what my school's name was. And I said Pon Vidyashram without even missing a beat. That's how much I love this school. When I joined Pon Vidyashram, I was a mediocre student. But over the years, with the guidance of my teachers and the inspiration from my friends I gradually realized my potential.
The 10th board exams are a landmark in one's life. Due to the revisions given by the school, I had a lot of practice and was able to prepare myself well for my board exams. I was rewarded at the end. I became one of the subject toppers of English, Science and Social Science.
What's school life without friends? I made many good friends in Pon Vidyashram, and I am here because of them. I particularly enjoyed the group studies with my friends, guided by the teachers. APVS gave me confidence in myself and helped me realize my true calibre. It has moulded my personality and clarified the vision of my future.
Special thanks to my teachers must be said at this juncture. They are the friendliest, most enthusiastic and encouraging mentors one could ever get. They made my6-year stunt in APVS, a memorable one.
I am and always will be thankful to APVS for making me who I am today.
Abhishek